Memories of Brandeston and Framlingham
John Simpson (Cousin of Sue Thurlow)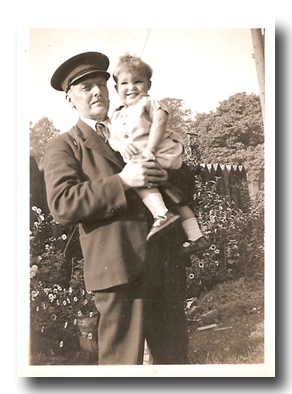 Our grandfather, T W Simpson (right, with me in 1940) was Station Master at Framlingham from 1933 until he retired in 1946. He was always known as "T W." My father, George Simpson, after school at Framlingham College, moved to London where he met my mother, Grace. When they married, they bought a sub post office at Charlton in London.
I was born in 1938 and so started school on my fifth birthday in 1943. I had already been evacuated once to a great aunt in Paignton, Devon during the first London blitz. I spent time with my maternal grandparents at Harrow in Middlesex during the time of the doodlebugs. However, when living in London became too dangerous, I was sent to live at Framlingham with my Aunty Dorothy, Sue's mother. As she ran a hairdressing business in Framlingham, I was often sent down to the station to be looked after by grandfather. Our grandmother, Grace Nellie (below), died in 1942.
As he was the station master, and in those days was in charge of everything in sight, I was put in the care of the booking clerk or the signalman in the signal box and even with the guard to ride on the train up to Wickham Market and back! What more could a 7 to 8 year old boy want? Much better than going to school!
Whilst living with Aunty Dorothy, we often came to Brandeston to see her in-laws, Mr and Mrs Murton at Hill House. Mr Murton was the village butcher and had his own abattoir opposite. My abiding memory of him is his falling sound asleep after lunch with the paper over his face and chest where it fell after he dozed off.
I remember wandering the lanes and bye-ways with some other children. We found strips of metallic foil in the hedgerows. We did not know what it was for, but it was great fun to play with. It was probably dropped from one of the bombers at the USAF base at Parham.
Petrol was rationed, as were meat and most other foodstuffs, so trips anywhere in the car were limited.
After the blitz, I moved back to London where we had been bombed out and lived in alternative accommodation nearby. We did not get back into our rebuilt house and shop until 1948. In the meantime, Philip Murton returned from the army and joined his father in the butchery business.
Philip and my father were both very keen sportsmen and played cricket together at Campsea Ashe. Philip, however, was a superb cricketer; Sue may know if he ever played for Suffolk. In latter years, he took up golf with great success while my father took up bowls with some success when he retired - a skill he learned from Grandfather Simpson on the bowling green near the castle at Framlingham when he was a boy.
As a family we continued to visit Hill House from time to time to see Philip, Dorothy and their two daughters Penelope and Susan.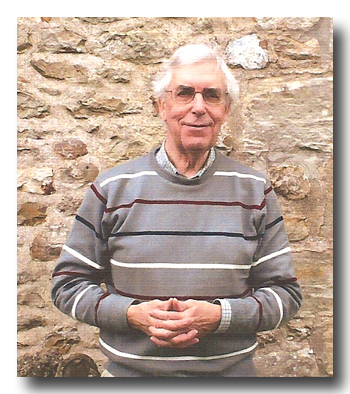 I remember visiting when I was 17-18 as I had recently passed my driving test and drove most of the way. That was when the two girls were about 12 and 8 and very giggly about having this young man to Sunday lunch. On Coronation day, the Murton family descended on us at Bromley as we had a television set and we all watched the Queen being crowned.
After the war I went to school in London and then on to Seale-Hayne Agricultural college in Devon. There I met fellow student Graham Vellacott. He was a keen member of the Christian Union at that time, and then 40 year later, I find that he was the priest in my cousin's village!
John Simpson (left), aged 70, two days before Sue was 60!!
See more of John's old photos here.