The Queen At Brandeston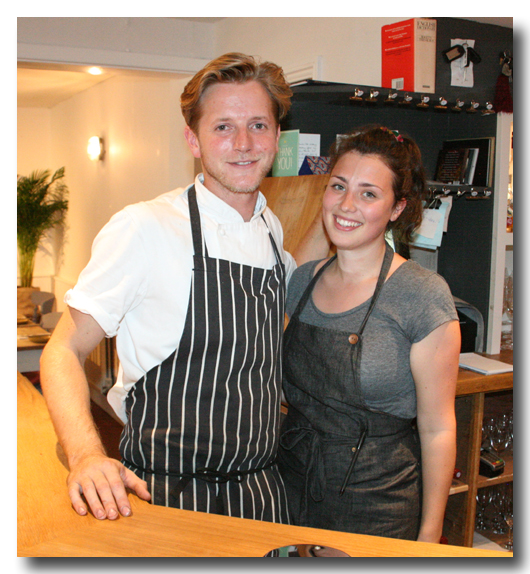 Brandeston's Queen's Head has changed hands several times this century – eight occasions in the last 15 years compared with 16 in the previous 190 years. We are all hoping for a period of relative stability and the new hosts, Alexander Aitchison and Lillie Fulford (pictured left) could be the ones to provide it. Alexander and Lillie took over in July 2015 and they have made many changes to the place with more planned for the New Year. The look and feel of our village pub will be quite different and more in keeping with modern pubs.
Chef Alexander spends most of his time in the kitchen, frequently venturing into the bar to meet his customers, while the front of house is run by Lillie ably assisted by their new team.
One of Alexander's previous jobs was Chef de Partie in Cafe St Honore in Edinburgh which is renowned locally for its French food and he brings a lot of the skills that he learnt there to the Queen including baking his own bread daily. In the short time since it reopened, Alexander, Lillie and team have already established the Queen as a serious eating establishment.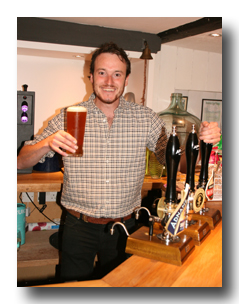 The menu offered in the Queen will be built around locally sourced ingredients but more than this, Alexander and Lillie have plans to grow their own fruit and vegetables in the field behind the pub. Horticulturist Arthur Cole (right) is charged with developing the land over the next few months with the first crops due next summer. The plan is that vegetables will go from plot to pot in thirty minutes. Arthur is also seen buzzing around inside and outside the Queen greeting, serving and making sure that customers are happy.
There is an interesting wine list with reasonable prices along with beers at the time of writing from Adnams, Woodfordes and Timothy Taylor
Some of the team are pictured below and include Chris, Sophie and Maddie with Lillie and Alexander. The Queen's new web site can be seen here where up-to-date opening times, sample menus and other information can be found.