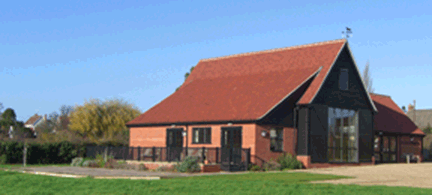 Whilst being proud of all our meeting places, the one we are really pleased with is our new village hall. The building was completed in 2005 and replaced our old village hut, a wooden building moved from Felixstowe just after the first World War. Brandeston people raised a large sum of money and along with a Lottery grant, built this well used hall. Nick Hayward has written a concise history of the development and has included photos from the last days of the old hall to the opening of this new one.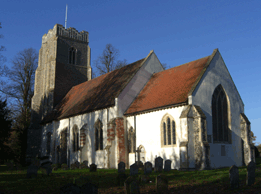 A much older building is All Saints' church. Robert Warner has written a booklet on the church (All Saints' Church, Brandeston, Suffolk - A History and Guide, published by Robert Warner). It is available from the church for a minimum donation of £1.
The earliest part of the church dates from about 1300 although there is evidence that there was a church on the site before 1066. The church was restored in the 1860s with the east window being unblocked, the leaded nave roof being replaced with tiles and the construction of a new north porch. Several changes took place in the 20th Century including the installation of an electric organ in 1962. The bells were re-cast in 1962 and the church supports an active bell-ringing group.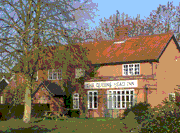 Another old building and much used by people from Brandeston and elsewhere is the local pub "The Queen's Head". Built over 400 years ago and owned by the Southwold brewer, Adnams, it is the heart of the village. John Lowes, who was accused of being a witch, was tried by the Wichfinder General in one of its rooms. The pub used to have a thatched roof which caught fire several years ago and was replaced with pantiles. It was recently modernised but has lost none of its charm. New landlord Alan Randall continues to make the Queen a really welcoming pub with excellent cooking, friendly staff and Adnams ales.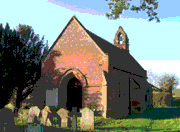 Our final meeting place is the Chapel in Mill Lane. This was built around 1860 and was in disrepair until it was restored in the 1990s. It now has its own electricity supply but is still only occasionally used, the main event being the Chapel Christmas drinks evening in December. If you have any thoughts on how it could be used, visit the Brandeston Blog and join the discussion.