Greek Lunch and Games

19 August 2012

On the hottest day of the year, Brandeston held its very own celebration of the Olympics with support from Suffolk Sport and Community Games. A Greek lunch in a marquee was followed by the opening chords from "Fanfare for the Common Man" announcing the lighting of the flame. To the sound of the by now familiar "Chariots of Fire" theme, a runner clad in the Team GB kit entered the field with a lit torch and to cheering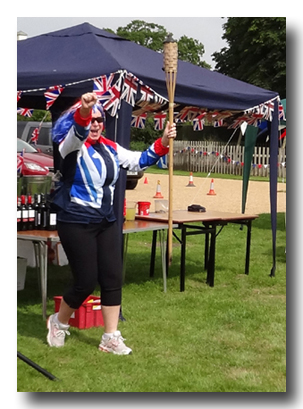 and whoops of surprise from the crowd. Helen Buckingham did two circuits of the tent before officially lighting the flame that declared the games open.

Richard Daykin, Paul Baker and Mia then demonstrated the steps to Zorba the Greek before leading the audience in a mass dance.

From 2:30 onwards until the light started to fade, keen sportsmen, women and children aged from 2 to 80 plus ran, played table tennis and petanque, put the shot, threw wellies, jumped, sprinted and ran the Brandeston marathon (800 metres) in wilting temperatures. Most of the men in the Over 60s, 400 metres walk were disqualified for breaking into a competitive run for the line – and yes, Nancy, you were spotted running in the Ladies walk!

The presentation of medals seemed to increase the competitive spirit and by the time the barbeque was lit, many necks were laden with gold, silver and bronze.

Everyone agreed that the day was a great success providing something for all generations to enjoy.