The Brandeston Coffee Mornings
Every Thursday from 10:00 am to 12:00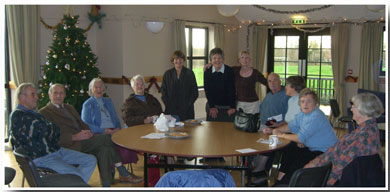 The Coffee Morning started in January 2003 and has not missed a Thursday since then. A band of people meets regularly to discuss anything and everything over tea, coffee, biscuits and, occasionally, cakes. The Coffee Morning is run by Sue Etheridge and Jackie Rice with willing help from others on most mornings.
There is seasonal produce available along with fresh bread from The Bakehouse, Woodbridge and Basil Normanís best eggs. Bread and eggs generally have to be ordered in advance through Sue or Jackie. The Coffee Morning also operates a free video and book loan service. People who attend make a donation and so far, about £1000 a year has been donated to the village hall.
Another extremely useful service provided by the Coffee Morning is the sale of tickets for all the events in the village. Check the Whatís On page to find out what events are coming up and either get in touch with the organiser or go to the coffee morning and buy your tickets there.
Once a month, the 100+ Club draw takes place. If you want to join then look at the Contact Us page and you can contribute to village hall funds and stand a chance of winning one of the cash prizes.
Sue Howarth provides Post Office services every Thursday at the Coffee Morning where you can buy almost everything you would expect at the PO including stationery and cards but in a friendly environment and with a cup of tea.
The Coffee Morning is open to everyone, whether you live in Brandeston or just passing through. It is an excellent way for newcomers to the village to meet a lot of people very quickly.
Make a date to attend next Thursday to meet and gossip with friends and neighbours about life in Brandeston.