The Undelivered Mardle: A Memoir of Belief, Doubt and Delight
By John Rogers, published by Darton, Longman and Todd at £12.99.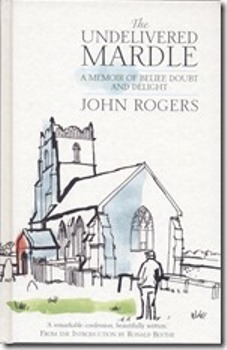 It was as always a great pleasure to see John Rogers, the author of this delightful Suffolk book, when he came in to lunch the other day. All might have been so different as a couple of years ago John was rushed into Papworth Hospital with a serious heart attack. His book opens with the ambulance clattering off towards Cambridge with John drugged up and half conscious but somewhat worried about how untidily he had left his affairs for others to clear up. All proved to be well. The arrival of John on my doorstep last week with his usual twinkle in his eye is a testament to modern medicine.
The day of the heart attack John was due to deliver a mardle, a gossipy talk, about one of his favourite villages and churches, Brandeston's neighbour Letheringham. John was a tree planter by profession and his eye for the contours of land is exact so he had nosed around the land around the church and the hedgerows and boundaries of the village. Originally the church, with its surrounding buildings, had been a refuge for 'old, ill and naughty' monks moved there from the Augustinian abbey in Ipswich. Now only a gateway survives. Even part of the church was demolished in 1800 and the setting today is wonderfully peaceful.
The Undelivered Mardle is a marvellous collection of what John has learned about Letheringham and its past together with his own thoughts on the Anglican church and its worship. There are many engaging moments, as, when feeling unwell, he lies down in a ditch to rest and imagines the conversation of the rooks as they try and work out who he is and why he is there. Then he does some time travel to imagine what it would have been like to have listened to the thoughts of their Anglo-Saxon builders and their Norman lord arriving to check on progress. This is all done gently and John comes across as someone who is genuinely bemused by the swirls and currents of theology but always ready to be sympathetic to them as the creations of men of goodwill.
I saw John's manuscript and urged him to find a publisher, not an easy task when so many thousands of writers are clamouring for attention. However, the well known publisher of spiritual books, Darton, Longman and Todd, were as enthused as I was and so the book is out and is made even more enjoyable by the illustrations of John's own daughter, Lucinda. Ronald Blythe, another lover of the Suffolk countryside and its ways, provides a preface. Do read The Undelivered Mardle and learn more about the valley we share.
Charles Freeman
Oak Farm.